If you didn't catch our Past-President, Jim Keeling, on Sky News with Ian King earlier this month, watch the full interview below to find out why many business owners are still looking to sell in the current climate.
Click on the image below to listen to the full interview.
For most owners, selling a business is a single, once-in-a-lifetime deal. Every mistake in the M&A process can be potentially costly. Thorough groundwork before the deal allows for increasing the company's value and preventing price discounting. Though each transaction is unique, our family member Capital Times discusses the most common ones in their recent article published by the Ukraine News Agency – Interfax.
Click below to read the full article:
Congratulations to MelCap Partners, LLC, one of our US members, for being named Boutique M&A Firm of the Year for the 2nd year in a row by The M&A Advisor.
To read full press release, click here.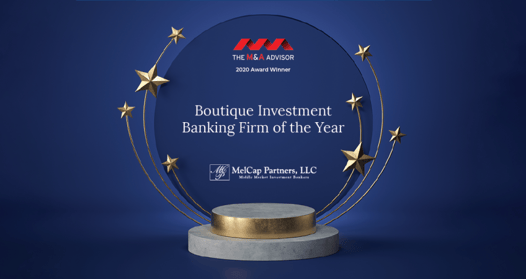 Family members Silverpeak and Impello Management AS collaborated to publish expert insights in their "Nordic Application Software Benchmark Report".
Their review shows that the Nordic application software companies in Q4 2020 are valued at a median EV/Revenue multiple of 7.9x, closing the historic gap to the US significantly.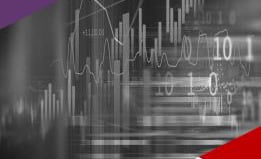 As we all adapt again to lockdown, we are speaking to many business owners who are asking themselves whether they really have the strength and energy to take their company to the next stage of development. Many don't believe they have a choice – how could they possibly get a full price for their company in a Covid hit economy? But …
Every quarter here at Corbett Keeling, we review Private Equity M&A activity in UK Private Company Director; this assessment of deal volumes and values is a strong indicator of market appetite for investments and acquisitions. We supplement this by surveying equity and debt providers directly to find out how they foresee deal activity in the following quarter. A born optimist, even I have found myself surprised by the strength of the market this last quarter and, while debt may be less readily available, it is evident there is plenty of equity investment impatient to pay a full price to owners wishing to reduce their exposure to their business. Please do read the full report in our January edition of UK Private Company Director – the facts speak for themselves.
The market statistics reflect our own experience. We were just preparing to sell a business when the first lockdown was imposed last March. Determined to get the best price for our clients, we wondered whether we should advise them to put the deal on hold. With hindsight, we were right not to as we received multiple offers. The owners are delighted with the result and can now look forward to their retirement, confident the business is in safe hands for the next stage of its growth.
If you would like to discuss your options for a partial or full sale of your shareholding, please do get in touch.
Jim Keeling
+44 (0)20 7626 6266
Jim.Keeling@corbettkeeling.com
Globalscope Partners' network of international investment bankers is excited to celebrate the success of our family member Insignia Financial Advisors with the recent opening of their newest agency Insignia Caribbean …. click here for full details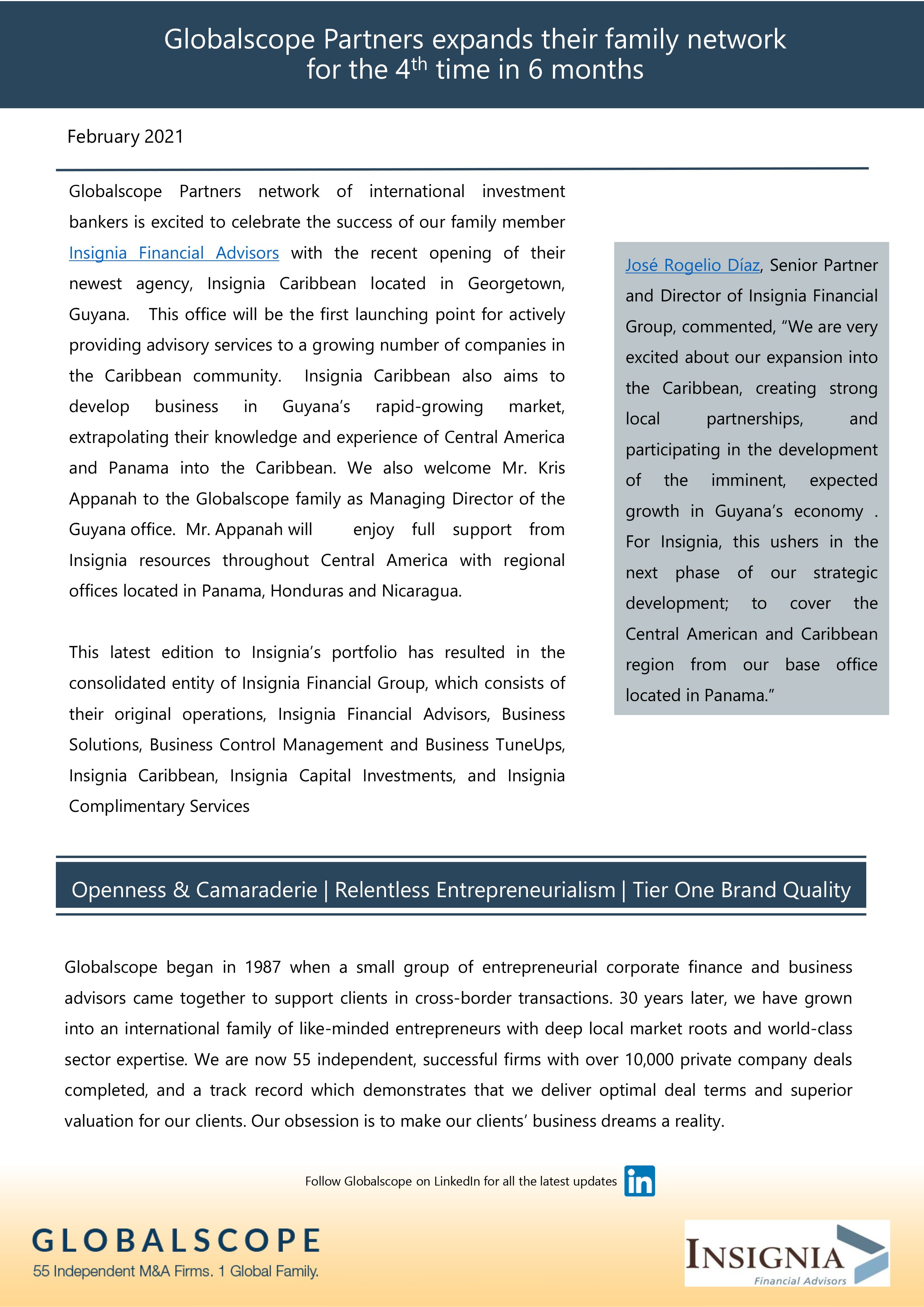 Looking back at 2020, we will probably remember first and foremost the impact of COVID-19. As usual, you will find the latest macroeconomic developments and assessments in our latest Market Report.

Read more here: https://lnkd.in/dtXN2cU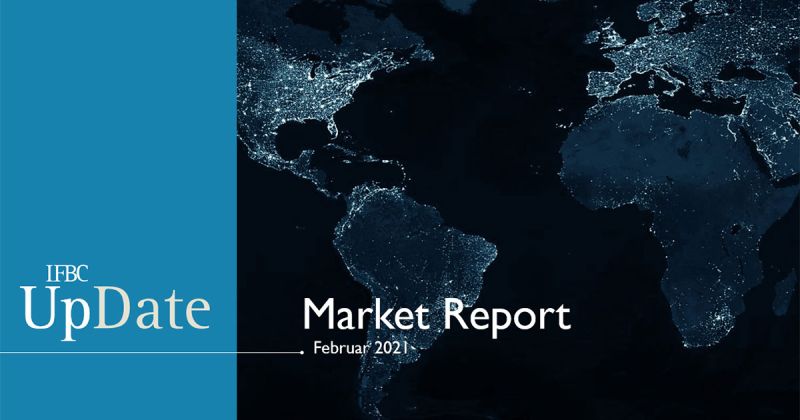 Globalscope Partners proud to announce the addition of 3 new tier-1 members
29 October 2020
Globalscope convened its semi-annual Fall Meeting in October 2020 by video conference. Despite the restrictions of the ongoing COVID-19 pandemic, member firms are adapting, developing new opportunities and delivering success on behalf of clients. Jim Keeling, President of Globalscope, said "while we would prefer to meet in person, consistent with past practices, business must go on. Video conferences keep us connected with our membership, promote international M&A activities and develop best practices during these unusual times. Notwithstanding the pandemic, our 55 independent member M&A firms, operating as one global family in 48 countries, participated in two full days of video presentations of over 100 prospective transactions. Not only did this verify the viability of M&A activity worldwide, but it was wonderful to see almost 100 of our senior colleagues from across the world experiencing the power of exchanging ideas and the impact this has on transaction completions".
"We are very pleased to welcome three outstanding firms as new members of Globalscope", said Martijn Peters, Head of Member Recruitment. "We continually look to expand our international network by inviting new members, who are carefully selected and vetted as sharing our core values. I believe all three achieve this aim and further strengthen our geographic footprint in Asia, Eastern Europe and Australia".
AWR LLOYD (Bangkok, Thailand and multiple offices in Asia) said, "Globalscope was introduced to us via friends in Asia and Europe. We were immediately attracted to the idea of joining a family of like-minded investment banking boutiques, passionate about M&A".
ESFA Managing Director Dragan Bosiljkic said, "We are sure that the partnership with the Globalscope network will help us to improve our business through the development of our transaction management approach and cross-border cooperation. We will benefit from widening the framework of our market expansion strategy for our clients". ESFA is based in Belgrade, Serbia.
When asked, "Why Globalscope?" Michael Rovira of Octavian Group (South Perth, Australia) said, "Globalscope was the natural choice for our firm as we continue to enhance our international presence, providing our Australian clients with greater exposure to cross-border opportunities. We look forward to working with Globalscope members in the same spirit of openness and camaraderie that members have shown us during our dealings to date".
The Fall Conference concluded with our traditional "Toast to Liquidity", celebrating €3.2 Billion in transaction closings in 2019 by Globalscope member firms. Mr. Keeling reported, "The Technology, Media and Telecommunications sector saw robust growth since our Spring Conference, with exit multiples reaching record levels in the United States. Additionally, M&A activity appears to be picking up in recent months". Globalscope also presented its "Oscar Awards" for transactions completed since the Spring Conference. Congratulations to the winners!
Most Active Member – Carlsquare (Germany and other European offices)
Most Valuable Deal – Portofino (Israel)
Globalscope Flagship Deal – Carlsquare (Germany) & DEX (Netherlands)
Globalscope will continue its biannual schedule with its next conference in April 2021.
About Globalscope Partners
Globalscope is an international family of 55 independent investment banking firms located in 48 countries around the globe. Member firms specialize in representing business owners engaged in selling, financing or buying companies. With over 30 years of global M&A experience across all continents, Globalscope works in close partnership with clients in making their business dreams a reality. Over 10,000 satisfied clients have benefited from our extensive knowledge of international capital markets and identifying buyers of their businesses.
Camaraderie & Openness | Relentless Entrepreneurialism | Tier One Brand Quality
What do a carrot, an egg, and a coffee bean have to do with
supply chain vulnerability?
Follow the link below to find out….
---
Click here for the full article
Please click here for the H newsletter covering valuations for pharma, healthcare, TMT and logisitics industries with a focus on Europe and CEE.

Report highlights
Sector M&A highlights for H1 2020
European M&A trends and market analysis
CEE M&A trends and market analysis
Top European and top CEE transcations by sector for H1 2020
If you would like to discuss this report further please contact:
Péter Karli